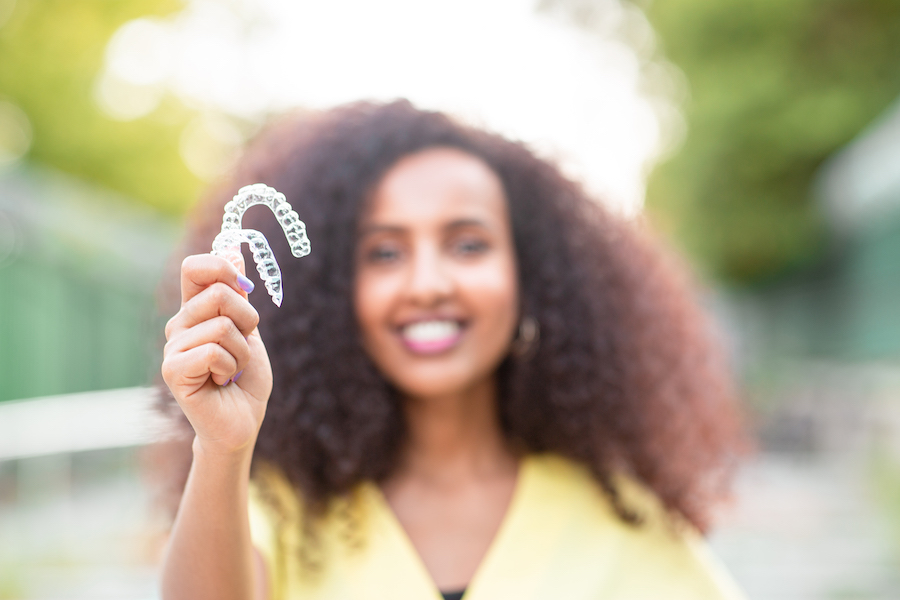 Am I a Good Candidate for Invisalign?
April 29, 2023 12:27 am
---
Are you tired of having crooked, gapped, or overlapping teeth? Luckily, there are many orthodontic treatments available, including Invisalign® clear aligner therapy. This revolutionary cosmetic treatment can discreetly straighten your teeth, boost your self-confidence, and improve your oral health!
What Is Invisalign?
Invisalign is an orthodontic service that uses clear, removable aligner trays to straighten teeth. A series of smooth, plastic aligners are created based on an advanced 3D scan of your teeth. Patients wear each set of trays for about two weeks before moving to a new pair of aligners in the next stage of their treatment plan.
Benefits of Invisalign
Invisalign is a popular treatment option because it provides a wide array of benefits for patients. For example:
Comfortable Plastic – The smooth aligners are very comfortable for patients to wear because they don't have brackets or wires that could irritate the inside of your lips and cheeks.
Fewer Dental Visits – Dentists will send patients home with multiple sets of aligners at a time so you will have fewer dental appointments compared to braces.
Nearly Invisible Trays – The trays are transparent so they aren't as noticeable as traditional metal braces.
Less Food Restrictions – Patients take their Invisalign aligners out when they eat or drink anything other than water so their diet can be more varied.
Simple Oral Hygiene – Invisalign aligners are removed when brushing and flossing your teeth, which makes your oral hygiene routine much easier compared to braces!
Who Qualifies for Invisalign?
Invisalign is a good option for patients with mild to moderate misalignment, including the following issues:
Crowded teeth
Gaps between teeth
Overbite
Underbite
Crossbite
Clear aligners are usually not the best option for patients with complex orthodontic cases, significant jaw realignment needs, or severely rotated teeth.
Schedule Your Invisalign Consultation at Walnut Ranch Dental Spa!
The best way to determine if you are a good candidate for Invisalign is to schedule a consultation with an Invisalign provider, like our team at Walnut Ranch Dental Spa. During your consultation, we will examine your teeth, discuss your goals, and go over your budget. Please contact us today to set up your Invisalign consultation.
Categorised in: Cosmetic Dentistry