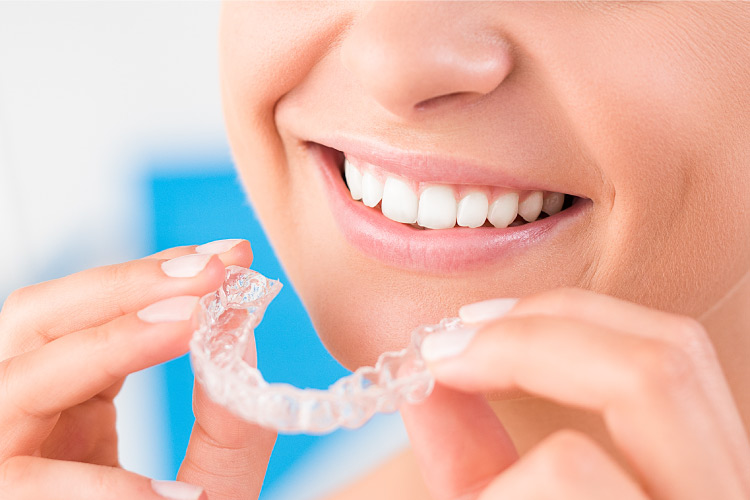 How Does Invisalign Work?
June 30, 2023 3:26 am
---
If you've been researching your teeth straightening options, you've likely read about Invisalign and wondered if this braces alternative is right for you!
The Big Picture of Invisalign
The idea with Invisalign is that instead of using brackets and wires to pull your teeth into place like what happens with braces, a series of trays is used to gradually push your teeth into place. Every few weeks, you'll get a new set of trays for your upper and lower teeth. These are designed to gently move your teeth closer and closer to their optimal positions.
Some Specifics about Invisalign Trays
Invisalign trays look almost like clear retainers or mouthguards, and are custom-made to fit snugly over your teeth. Their smooth plastic will be nonirritating to your lips, tongue, and gums. Another big difference between Invisalign and conventional braces is that Invisalign aligners are completely taken out of your mouth whenever you clean your teeth and eat anything other than water.
Some patients need small attachments on their teeth called buttons. These tooth-colored bumps help your aligners move your teeth and are much less conspicuous than the brackets of traditional braces.
Length of Treatment Time
The average length of Invisalign treatment is around one year to 18 months. However, each case is different and will require a different amount of movement. Treatment duration also depends on patient compliance. In order for your treatment to be completed as quickly as possible, it's important that you wear your Invisalign trays for at least 20 to 22 hours every day. This means only taking them out to eat your meals and clean your teeth.
Invisalign Provider in Ardmore, OK
If you are interested in learning more about Invisalign, please contact Walnut Ranch Dental Spa today to schedule your Invisalign consultation. During this appointment, we can answer any other questions you may have about this orthodontic treatment and discuss a cost estimate for your procedure. We look forward to welcoming you to our practice in Ardmore!
Categorised in: Cosmetic Dentistry